Dreamboys launches Dreamballs: Bottomless Brunch in London and Brighton
← Previous
Posted on 17 Jun 2021
Next →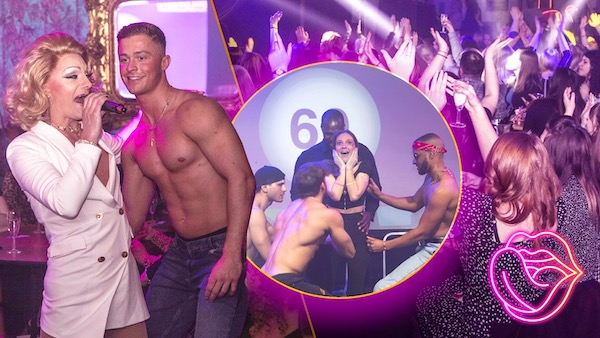 Buy Tickets & Merch 〉
If you're after the best bottomless brunch London and Brighton has to offer, filled with (bingo) balls, boys and booze… Look no further!
After a very brief launch last year - which ended almost as suddenly as the nation's faith in Boris Johnson - we're BACK with our delicious bottomless brunch events; aptly-named 'Dreamballs'.

Getting glammed up for some day drinking on a Saturday only to end up overdoing it on the prosecco and snapping your new ASOS heels is something we've all sorely missed over the past year-and-a-bit, us girls at Dreamboys HQ relate to you VERY HARD on that one.

So we're bringing you exactly what we consider our own personal 'Dream' version of a bottomless brunch: Semi-naked men, drag queen karaoke, a few rounds of bingo, some delicious food… and plenty of booze! What more could you want?!


Book in for a bottomless brunch near you!
From hen parties to a night out with the gays, gals and non-binary pals, we accomodate all sorts of bookings, and the four-hour long session means this is an event worth booking out your Saturday for. There's no rushed, hour-long drinking slots here! Just pure unadulterated fun and irreplaceable memories that'll have you howling with laughter the following day, as you tuck in to your hungover McDonalds.

Our London event kicks off at a brand new home, Proud Cabaret - City, situated in between Aldgate, Tower Hill and Monument tube stations. And we're excited to be heading to the seaside to launch Dreamballs in Brighton. Proud Cabaret will play home to us here too, as they have a wonderful Brighton venue.

Kicking off in London on Saturday, June 26th for our special launch day event, we'll be at each venue on alternate weeks. Tickets start from £36 and you can book here now.