Dreamboys Reviews
← Previous
Posted on 28 Nov 2019
Next →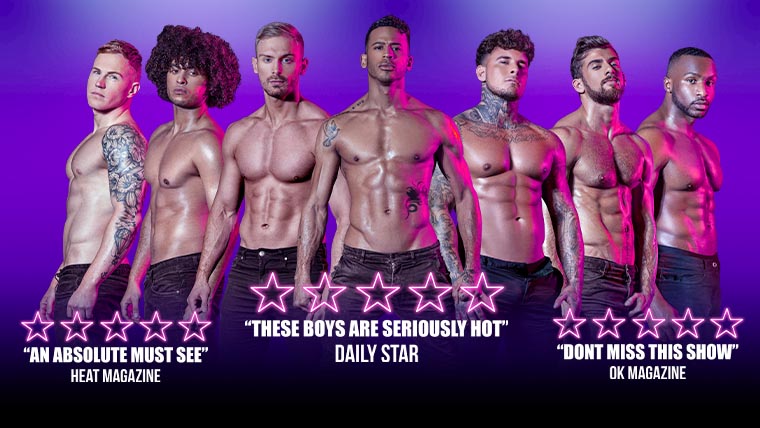 Buy Tickets & Merch 〉
At Dreamboys we strive to make each and every guest feel special. Looking for male strippers? You've come to the right place, but don't take our word for it! These are just a few things customers at our Male Strip Shows are saying about us.
---
Patricia Morgan
Dec 2019
★★★★★
"Been to see the guys twice this year and 6 times in all. What can I say? Well, lots of gorgeous men, who are fun with their own personalities. Brilliantly put together show. Jordan is not only sexy as, but an amazing host. All the boys put on an amazing show. Will definitely be going again next year! Just one small request, more flesh please."
---
Sharen Ewan
Dec 2019
★★★★★
"Can't recommend these guys high enough. All of them put on a fantastic show. Is full of brilliant music, dancing, laughter and yes THE BEST teasing a human can get. Is not full of complete nudity which is great as those parts that are, are so worth the wait. Was better than I thought it would be. If you want a fantastic hen party or even just a great teasingly girls night out watching a whole load of hunks in trunks, then book now."
---
Susan Harrop
Dec 2019
★★★★★
"It's THE best night you could ever have I certainly recommend you all go see them a night you'll never forget, worth every penny and after your first time you'll certainly want more. There shows are amazing the music, the dancing and they include everybody on and off stage the atmosphere is fantastic.
Also you get to meet the boys after the show, chat with them, take pics, autographs there all so nice and sweet you can't help not to love them all!!"
---
Kerry Connor
Dec 2019
★★★★★
"Been to see the dreamboys three times so far and every time they have been absolutely outstanding! Their performance is on point.. hits exactly the right spot. The guys themselves are super sexy and decent genuine guys! Always a pleasure before during and after the show.. calendar signing and photos always an option at the end.. literally cannot wait to see the lads again! Keep up the hard work cause it definitely pays off"
---
Stef Brockbank
Nov 2019
★★★★★
"Absolutely amazing evening seeing the Dreamboys tour tonight. Such a well put together evening and the cast are just wonderful. Well worth every penny. Highly recommend the meet and greet at the end. Every single guy was so lovely, friendly and happy to pose for pictures. Will definitely be back!!"
---
Samantha Stean
Nov 2019
★★★★★
"Median Isle of Wight, boys you were amazing, and you put 100% in all round, you definitely didn't disappoint, just amazing the show was top end, you boys were on fire. we had a brilliant night. and you were all so friendly, made our evening! I do hope you return to the Isle of Wight. If you Haven't seen these boys get your tickets now!. There's not enough stars to rate the show, or enough words. And can't explain how truely great the show is. So get ya tickets and go see the boys. Samantha x"
---
Angela Aguiar
Nov 2019
★★★★★
"I had a lovely night. Dream boys .. AMAZING SHOW you were great guys!! The staff was very friendly! Such a nice girls night out. Thank you"
---
Lucy Green
Nov 2019
★★★★★
"Fantastic show! A great night and an experience I most definitely will not be forgetting any time soon! Talented group of guys who know how to put on a fab show. Definitely recommend"
Buy Tickets 〉
---
Danielle Carter
Nov 2019
★★★★★
"Such an amazing show. We all had the best night and I loved how interactive with the audience the lads were. Will definitely be going again."
---
Anita Sargant
Nov 2019
★★★★★
"Had an amazing time both shows we went to....Sheffield and chesterfield the guys were truly amazing put on such a great performance and very friendly during meet and greet.....we definitely will be seeing them next year for sure.... 100% recommend for a great night of entertainment."
---
Nikki Chatt
Nov 2019
★★★★★
"Had a amazing night. Can't wait to see them again nextd year. Thank you xx"
---
Kerrie Doran
Nov 2019
★★★★★
"What a great night last night in Bedford. The boys were the music was so good . Cant wait til they come back in September. Highly recommend to everyone looking a fun night out"
---
Kirsty Barber
Nov 2019
★★★★★
"Such a fantastic night defiantly worth it. The boys are all amazing, and what a performance. Defiantly recommend this show."
---
Yasmin Ramsey
Jan 2020
★★★★★
"Amazing show went to 2 of the shows and have tickets for 2020, hope to see Kyle back on the stage and the rest of the boys as they are all amazing"
---
Carolanne Henderson
Jan 2020
★★★★★
"Been to see the boys three times and will b back to see them again this one couldn't miss it they are the best and all are genuinely lovely lads .. well worth the extra to meet & greet they never disappoint."
---
Kira Rehfeld
Dec 2019
★★★★★
"Been to see the dreamboys tour a few times now and it's always amazing! The lads are great at what they do, very highly recommend to anyone that's not see it to get booking"
---
Amy Hughes-Couper
Oct 2019
★★★★★
"Would absolutely recommend, incredible show with incredible cast. All absolutely down to earth. the BEST show!!!"
---
Jill Bayer
June 2019
★★★★★
"I've been to the Dreamboys tour show and one of the Saturday night events. Both were a really great night out, and the atmosphere and general excitement makes everything even more fun. The boys are so gorgeous and clearly care about showing all the ladies a great time - what more could you ask for!!"
---
Debbie Thorne
June 2019
★★★★★
"Me and my sister saw the boys in April this year. They were all fantastic and the routines were great .... This was the first time we'd seen them this year but it certainly won't be the last .... We done meet and greet and all of the boys were friendly .... Would highly recommend you go see them (Vicky & Debbie)"
---
Jessica Meakins
June 2019
★★★★★
"Would just like to thank everyone at the dreamboys especially Shane Tyler. This was a brilliant show I saw back in mid April. I did meet and greet with them all of the guys made me smile, when meeting them asking if I been before and if I enjoyed the show. I have already got tickets for May next year!"
---
Vicky Rayment
June 2019
★★★★★
"OMG where do I start I saw the boys for the first time in October 2018 for my birthday and WOW I wasn't disappointed at all show was amazing very funny and well put together so much talent I have already booked to see them again in September 2019"
---
Kim Nightingill
June 2019
★★★★★
"Absolutely fantastic sexy show in st Ives, a great night out can't wait to do it again unfortunately I would give a lot more than 5* but that's all there is, waiting on the return boys xx"
---
Lauren Papaioannou
June 2019
★★★★★
"best show ive been to, had a meet and greet ticket and all the boys made us feel so welcome, loved the show that much booked ticket again and will every year from now on, would recommend these boys if you want an amazing night out with your girls"
---
Jane Moran
Feb 2019
★★★★★
"I went with my cousin to coventry to see the show, it was a birthday gift. what a fantastic night we had. it's a proper show with dancing and hot guys as a bonus. highly recommend going to see the dream boys."
---
Caroline S
Feb 2019
★★★★★
"Cannot recommend this show enough. It's a great night out, whether you're with the girls or even just to take your mum along. Seen them 3 times so far. Great atmosphere! Can't wait for the next show."
---
Leah Cozens
Feb 2019
★★★★★
"Watched the Dreamboys on Friday 18th May at Bournemouth with my mum, and highly recommend going! We had the best night ever! Looking at going back again next year, with a few more of us this time. I couldn't fault anything about the show, great choices of music, the guys were awesome, you can tell that so much hard work goes into their shows! I could go on and on about how good they were but, honestly just get a ticket and go along, you definitely won't be disappointed. Dreamboys Rock!!!!"
---
Sarah Dombrick
Feb 2019
★★★★★
"The Dreamboys are exactly that... a dream. You can see why they are known as the best dance strip group in the UK. From start to finish you'll be wanting to get up and dance. The routines are effortless and if you're lucky enough to be chosen to go on stage you're made to feel like the only person in the room. It's not just dance routines and a cheeky butt cheek thrown in for good measure. It's one of the funniest nights out you'll ever have. It's all good fun from start to finish. Whether it's a hen night, a birthday night out or just a girlie night out you will not be disappointed. Now what are you waiting for? Go book those tickets!"
Buy Tickets 〉