Your Last Night of Freedom Made Easy With Hen Party Packages
← Previous
Posted on 03 Mar 2020
Next →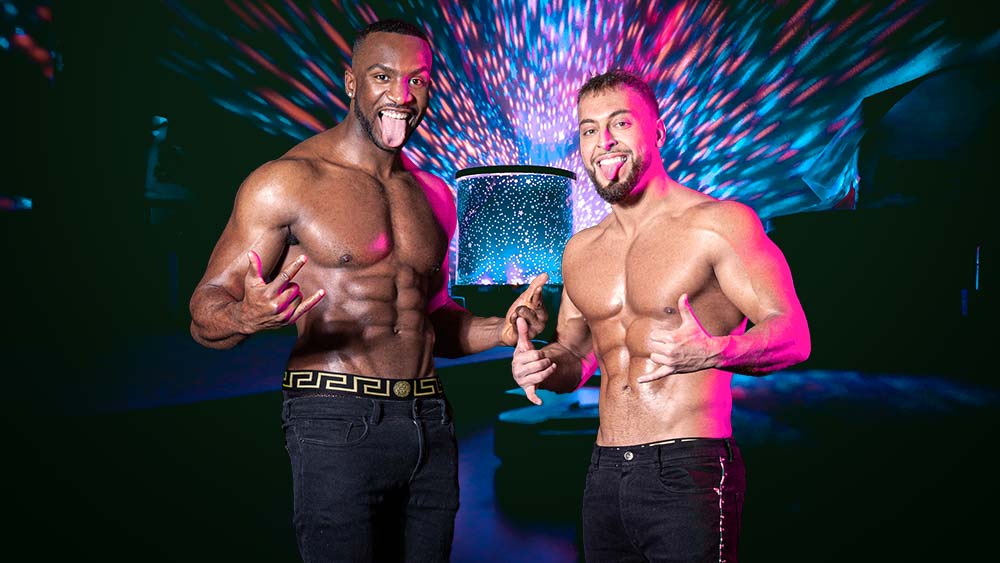 Buy Tickets & Merch 〉
CELEBRATE WITH HEN PARTY PACKAGES
Build your own hen party tailored to fit like Cinderella's slipper! Here at Dreamboys we have put together an amazing selection of
hen party packages
. If you have been given the task of organising a hen do, we have a variety of options so that all your needs are sorted under one roof.
We're talking classic activities, like fabulous cocktail making, and dance classes all the way through to epic evening entertainment at our male strip events and meals out right in the heart of the city. Anything's possible with 600 Dreamboys shows a year and locations all over the country!
We've been entertaining hen parties in the UK and Europe since 1986. Sit back, relax and let us organise everything for you. Arrange a hen do on a budget or supersize your party with extras like VIP Booths and private butlers. Whatever direction you go in, we'll make sure the bride and her hens have a night to remember.
We will be giving you the lowdown on our top tips to make the most of your hen party package!
CREATE YOUR PERFECT HEN WEEKEND
We offer some amazing activities, including nude life drawing, cocktail masterclasses and themed dance classes. Our hen party packages also include dining out and drinks packages available to pre-order at our Dreamboys Saturday night clubs. There are an array of restaurant choices to pick from and we can accommodate all dietary requirements, with all the popular hotspots on our list including Café Rouge, Las Iguanas and Revolution. Drinks Packages include pink champagne for a super luxe experience or special cocktails designed just for our show!
During the daytime we also have
Dreamboys bingo
on offer, complete with a bottomless brunch and boys to keep you entertained for an action-packed afternoon. If you are looking for a cheeky daytime activity then join us for Dreamballs, including sing-alongs with our fabulous Drag Queens, processco bubbles, sizzling dance moves and a supersized bingo game like you've never seen before!
WHAT WILL YOUR HEN PARTY LOOK LIKE?
We have a large and varied choice of hen party packages with something to suit everyone!
The Ruby Hen party package allows you and your friends to enjoy a 2-course meal with a drink and tickets to our Dreamboys show. You can upgrade your tickets to Silver should you wish to guarantee the first four rows for an up close and personal experience!
Our Emerald Hen party package includes an activity before you head out for the night. Choose between cocktail making, nude life drawing or dance class followed by our Dreamboys male strip show.
Afternoon Activity Choices on Offer with the Dreamboys:
Cocktail Making
Glass of Prosecco or Cocktail on Arrival & Bar Snacks
Demonstration Cocktails to taste
Expert Bartender exclusive to your group
Choose and Make your own Cocktail
Fun Interactive Team Games to Create Cocktails
Round of Shots to Finish
Nude Life Drawing
Private host (paper, charcoal pencils etc included)
Hunky model
Fun drawing games
Private venue
Certificate for all participants
Bottle of wine for the hen / birthday girl
Dance Class
Choose your dance theme:
Dirty Dancing, Beyonce, Greatest Showman, Burlesque, Spice Girls, Abba, 80's, 90's, 1920's, Cheerleading, Grease, Lady Gaga
Experienced dance instructor & Private venue hire included
Learn fun dance routine to chosen music theme
Bottle of wine for the Hen / Birthday Girl
Certificate for all participants
SAPPHIRE: OUR BIGGEST PACKAGE YET
Our biggest and best hen party package is the Sapphire Package – Build your own Dreamboys day and night! Choose an activity, a 2-course meal and our tickets to the famous Dreamboys show, plus free nightclub entry.
To tailor your night to perfection you can even choose what ticket type you would like for the evening show. Options include:
Bronze Hen party package – Tickets to our Dreamboys show, unreserved seating and close to the bar!
Silver Hen party package – Seating in one of the first 4 rows & Priority queue jump on arrival.
Gold Hen party package – VIP booth with a free Dreamboys calendar and your own dedicated area for you and your hen party.
BONUS: Add a boy in your booth (selected venues) to your gold hen party package – get up close and personal with our Dreamboys plus you will get a free private dance.
TOP TIPS TO MAKE YOUR HEN PARTY PACKAGE A WEEKEND TO REMEMBER
Arrive at the Dreamboys for the doors opening time – you get to meet our gorgeous hosts on arrival and get a photo opp with them.
Be confident, no need to be shy, everyone is super friendly.
Get some sashes so everyone knows which group you are with.
Dress your hen up, whether it is a tiara, a special sash or a veil.
Wear something glamourous for your Hen party package weekend - dress to impress!
Enjoy yourself and let your hair down.
Add a boy in your booth (selected venues) to your gold hen party package – get your own butler plus a private dance for your bride-to-be!
Make a fuss of your bride-to-be during her hen party package, if the Dreamboys go into the audience be sure to point her out.
Make and create fun games to play during your hen party package.
Grab yourself one of our Dreamboys T-shirts.
Purchase some exclusive Dreamboys Dollars (where available).
Stay for the meet and greet at the end of the show.
Scream and shout for your amazing drag host.
Make hen party goodie bags for each of your guests.
WHY YOU SHOULD BOOK WITH THE DREAMBOYS
One of the biggest reasons that groups come direct to Dreamboys is because they want a bit of help throwing their bride the most memorable hen weekend! What's more, you are guaranteed the best prices out there when you book direct! Yes, you could organise it yourself, but when you're looking at premium locations and hen weekend activities for your group of girls (any guys!), it can be challenging finding availability to accommodate large numbers. That's where we come in! You'll get the best price, the inside knowledge, and the best service by coming direct to us.
WE MAKE IT EASY TO BOOK AMAZING HEN PARTY ACTIVITIES
We have hen weekend packages all over the country every Saturday night. Check out our
London hen party packages
,
Blackpool hen party packages
,
Birmingham hen party packages
,
Bournemouth hen party packages
,
Brighton hen party packages
,
Bristol hen party packages
,
Cardiff hen party packages
,
Edinburgh hen party packages
,
Leeds hen party packages
,
Liverpool hen party packages
,
Manchester hen party packages
,
Newcastle hen party packages
and
Nottingham hen party packages
.
LET US MAKE YOUR HEN WEEKEND ONE TO REMEMBER!
We're looking forward in helping you in your journey to make your hen do absolutely spectacular! Please do browse our packages on our
ticket shop
and feel free to
contact us
via our website or call the Dreamboys HQ on 01268 760520.