Dreamboys Cast: Who is new Dreamboy and former Cirque Du Soleil acrobat Connor Stringer?
← Previous
Posted on 06 May 2021
Next →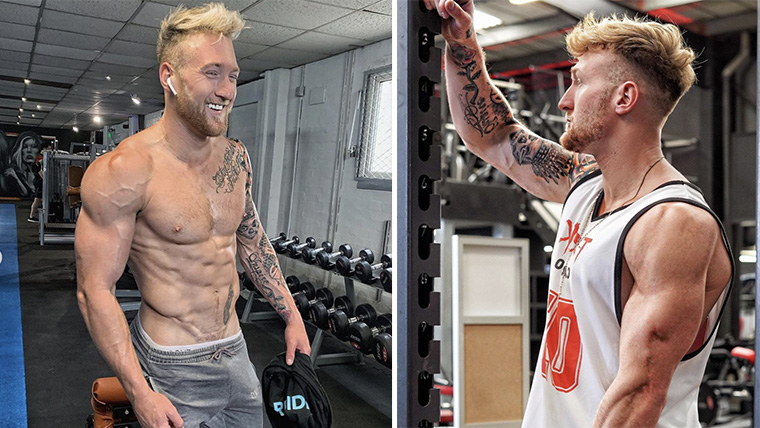 Buy Tickets & Merch 〉
The Dreamboys UK touring cast has had a bit of a refresh in 2021 and we're so excited to welcome professional acrobat Connor Stringer to the team!
The past year has been a nightmare for us all and the entertainment industry has been hit particularly bad, with The Dreamboys being unable to tour for over a year now! However, things are looking up and we hope to be back on stages across the country this year!
As if the prospect of touring and seeing all of you lot in the audience isn't exciting enough, we're also welcoming a brand new hunky Dreamboy to the team.
Connor Stringer is a 27-year-old performer with a wealth of experience under his belt. The blonde bombshell is completely self-taught and can't wait to start training with the boys, especially seeing as one of our current boys is his right hand man!
With a bubbly, confident personality and skills to match, we have no doubts Connor will become many of our fans' favourite as soon as he hits the stage.
The Essex boy chatted to us here at Dreamboys HQ, here's what he had to say…
Hi Connor! Tell us a bit about yourself!
Hello! So I'm Connor, 27-years old and I'm Southend-on-Sea born and bred. It's still my home-base, but I'm always in and out of London.
So I started training at 18 and have been in the entertainment business for nearly a decade. I'm completely self-taught and started learning how to do my flips and tricks pretty much on the streets.
One day I thought "damn, I'm pretty good, maybe I can make some money and have a career out of this?!"
Since then, I took on a number of roles in the industry, before joining Cirque Du Soleil in 2017 where I got the opportunity to tour America's west coast for three years, performing in the show VOLTA.
Tell us a bit more about your previous work?
So after a few years of practicing, I found my niche as an acrobat, specifically as a hoop diving acrobat. For Cirque, I perfected this discipline and became the first person in the UK to ever do so, and I'm one of only 50 in the word.
As well as the acrobatic stuff, I've done plenty of presenting, including fronting a TV show on Nickelodeon called 'Get Your Skills On' where I travelled across the country sharing my skills with others.
I've also worked as a stunt double for many companies, including the well-known kids' TV show character Sportacus from LazyTown.
As well as this, I've performed for well-known brands such as Nokia, Sony, Apple, JD Sports, Audi, BMW, Wickes, British Airways, Timberland, Armani & The North Face.
My work has taken me to places such as The Maldives, India, Qatar, all over the USA, Iceland, Germany and more. I'm so grateful.
Wow, that's seriously impressive! So tell us a bit about what drew you to the Dreamboys?
I was drawn to The Dreamboys through the sheer talent within the cast, the inspirational routines and general fun that everyone seems to have on stage.
I'm also really good friends with Zac, so I couldn't pass up the chance to perform with him, in the UK's top strip show nonetheless!
Everyone at Dreamboys is super kind, so down to earth and have crazy energy. Also, I can't leave out the boss lady, Alice. She's a gem and is super supportive of all the artists.
Also, I've actually never fully stripped before, which I know, is a shock! I'm really excited to learn and hone the craft as I've only performed strip tease elements during brief times at other companies.
It will definitely be entertaining watching you learn! Let's give the fans what they want… Are you single?
I am indeed single, but I'm not sure if I'm looking just yet…
I'm sure many will be open to changing that! So finally, tell us what your biggest goal is and why?
My biggest goal in life is to continue making something out of nothing.
I want to push my career in this incredible industry as far as it can physically go, and then some.
Proving everyone that thought this career would go nowhere for me and that it isn't a "proper job" that they're wrong is what drives me.
One more thing ... You have some amazing special skills! Can we book you for an event?
Yes! For stunt work, acrobatics and hoop diving shows please get in touch with Dreamboys via email at
[email protected]
and they'll sort you out.