Dreamboys Tour: Who is Pjay Finch?
← Previous
Posted on 01 Jan 2021
Next →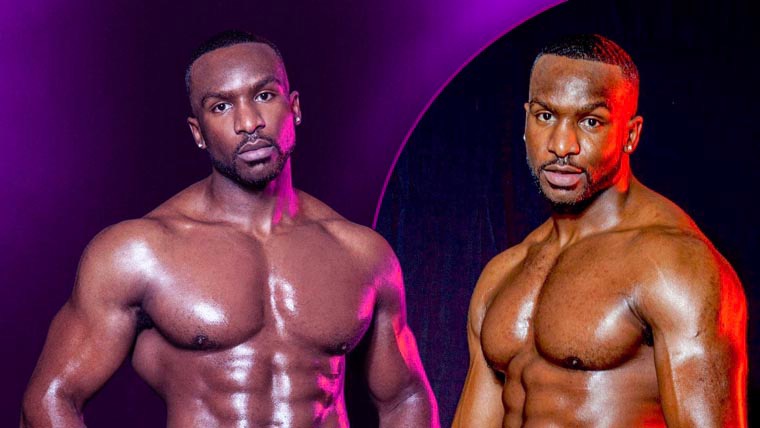 Buy Tickets & Merch 〉
Dreamboys Tour: Who is Pjay Finch and what do we know about the Birmingham dancer?
The Dreamboys tour has nine gorgeous men in its cast and one of those men is Pjay Finch.
So what do we know about the hunky Brummie dancer? Here's all the insider info…
Who is Pjay Finch and what do we know about him?
Pjay's real name is actually Paul, but he's been called Pjay since he was a youngster and it just stuck.
The star is 30 years old, born on January 21, 1990, and dances for both the Saturday night Birmingham shows (as he hails from the city), and the UK-wide tour.
Pjay has been with the Dreamboys for around four years, and has loved every minute of it.
However, he's been in the stripping industry for a whopping nine years.
What did Pjay do before he started working in the sex industry?
He tells us: "So before I started getting naked for a living, I had a boring life!
"I lived the typical 9-5 doing meetings and events management, it was all office based."
He adds: "I always felt like my life was a consistent circle, the same thing day after day, I was bored!"
There was one perk to the desk job however, as he got suited and booted every day.
How was he introduced to stripping?
Pjay told us: "Before joining The Dreamboys, I was introduced to a smaller company which was another male strip events business.
"From then, that was it, I had a taste and there was no stopping me, I wanted to see how far I could take it."
Why did he specifically want to join the Dreamboys?
For Pjay, Dreamboys was "always the end goal".
He explains: "Dreamboys was always the best of the best, the top performers, the best bodies, best dancers… you get the gist!"
Before eventually making it to the exclusive Dreamboys touring cast, Pjay worked up his experience at the Birmingham show, but had his eyes set on the tour from day one.
"I've always had my eyes set on the Dreamboys tour because I believed the team they have and the strengths and talent they have collectively would just push me to be the best version of myself", he explains.
What's his favorite part of the job?
Pjay describes his favourite pat as "giving everything you have and leaving it all on stage.
"I give it 100% every time, and also I love how the team is like my family; we're all brothers and if one falls they other will pick him back up.
"That's what I love the most about performing. There's no I in team; if I win we all win."
Has being a stripper ever had any impact on his relationships?
"When it comes to relationships you can imagine it can be a bit tricky, and it's all due to trust!"
"The simple fact that you're performing for thousands of screaming women week in week out and that you're also out touring a lot instead of being at home can take its toll, so trust and reassurance is key."
As well as this, he adds: "I believe there's only ever a problem when in a relationship if you give your other half reasons to believe there's a problem.
"At the end of the day, if you love someone you love them, stripping just a job and you're coming home to them at the end of the day."
What is Pjay most proud of?
"What I'm most proud of is undoubtedly my son, the bond we have is magical!
"He's the next Dreamboy in the making, you should see his moves already; he's nearly four years old and has a six-pack"
Like father like son eh?
How do I see Pjay performing live on the Dreamboys Tour?
Grab tickets
to our 100 date nationwide theatre tour. Sexing up the suburbs in a town near you.
Pjay can sometimes be found at our Birmingham male strip show when he's not on the Dreamboys Tour. Visit our ticket shop to discover all the
Dreamboys Birmingham ticket packages.
by Mared Parry