TOWIE's Dan Osborne joins the male strippers for a charity cash wash
← Previous
Posted on 14 Aug 2014
Next →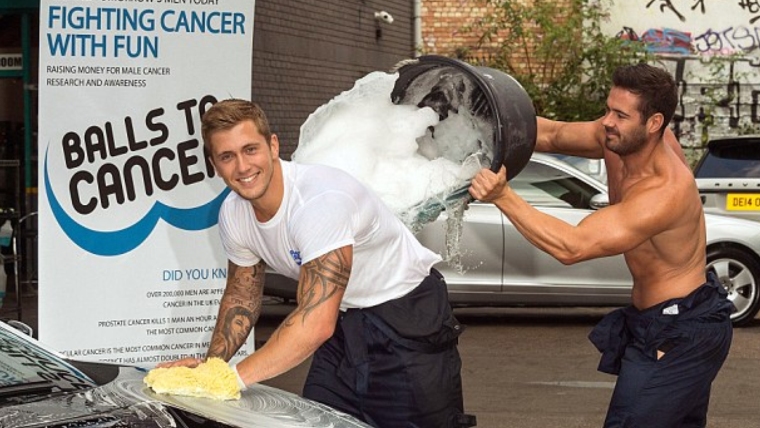 Buy Tickets & Merch 〉
He Landed the Dream(boys) job! It's the kind of physique that was made for showing off. And Dan Osborne's torso will certainly have it's fair share of observers when he becomes a member of the Dreamboys for seven dates on their Fit And Famous tour this September.

The Only Way Is Essex star, 23, joined the male strip group for a wet and wild car wash on Wednesday to raise money for charity, and get himself into the swing of getting his kit off.

'Keeping really fit while having fun with the lads – what's not to like?! I can't wait to start rehearsals!'

The soon-to-be Saturday night treat wore a tight white Balls To Cancer T-shirt as the lads got their hands dirty wiping down cars for the testicular cancer charity. Though his first day surrounded by half naked men was always going to be a bit of a laugh, Dan explained how seriously he was taking the fundraising.

'We've all been affected in some way by cancer, whether it be through family, friends, a colleague or someone we know in our lives,' he continued. 'As a male and a father it is very important to me to be supporting Balls for Cancer.'

Things got a little heated on the forecourt when the boys peeled back their car wash-soaked overalls to reveal eight packs and bulging biceps, and better tans than most of the cast of TOWIE.

Getting his kit off in front of a large audience won't come as a shock for Dan, who stripped down to the tiniest of swimming trunks for a synchronised dive with Tom Daley on the final of ITV reality show, Splash last year.