Dreamballs Brunch & Bingo
← Previous
Posted on 29 Apr 2020
Next →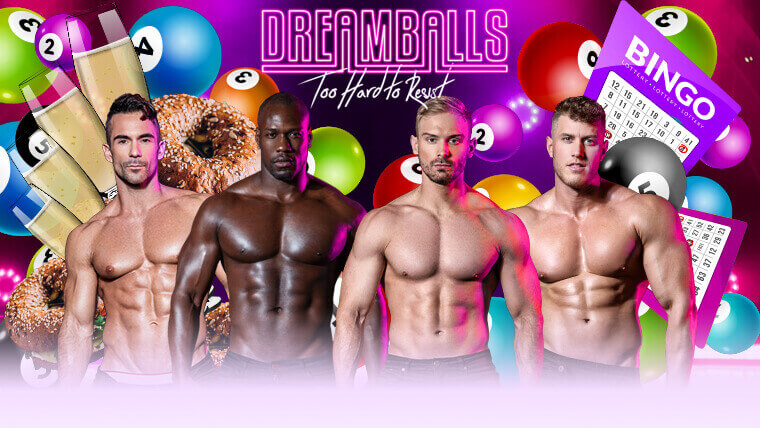 Buy Tickets & Merch 〉
"37 - ONE NIGHT IN HEAVEN!"
GET READY TO PLAY DREAMBALLS!
A bottomless brunch of bingo, boys, bubbles, bagels, sing-alongs, dancing and tons of amazing prizes!
Dreamballs
is the latest unmissable offering from the Dreamboys. This dazzling afternoon is an unforgettable experience featuring chiselled torsos, naughty Bingo, sing-alongs, tons of prizes, as well as a gastronomical feast.
The whole libidinous affair is hosted by our ever entertaining and mischievous Drag Queen comedienne Cookie Monstar along with a troupe of sizzling hot Dreamboys with tantalising dance routines, audience participation, Bingo games, and a chance to win big. Plus, get stuck into our bottomless feast featuring freshly baked bagels and Prosecco bubbles.
WHY IS DREAMBALLS THE BEST BINGO BRUNCH IN TOWN?
At Dreamballs, we know how to have a party. Britain's favourite game has been supersized in more ways than one! Think gigantic prizes, competitions, classic tunes, and an afternoon of indulgence. We've got boys, balls and bottomless booze at Dreamballs in Camden Town for the ultimate fun filled party event of 2020.
Come to our London launch on Saturday March 14th for 5 hours of fun. Events are twice a month in London and Brighton, with Manchester & Liverpool coming soon. For more dates and to book you ticket to our London brunch & bingo
click here.
The chiselled torsos of our gorgeous boys will tease and please you at an afternoon like no other! Dreamballs is certain to excite and delight so don't miss out.
Tickets selling fast. Limited seating.
Dreamballs tickets include:
Bottomless Prosecco for 60 minutes Midday till 1pm
Your choice from a selection of freshly baked bagels:
★ Eggs Benedict
★ Smashed avocado, guacamole and Bacon
★ Salmon and cream cheese
Plus an epic game of Bingo like you've never seen before!
What are you waiting for?
Dream Big, Dreamballs
NOT CONVINCED YET?
Why not
take a gander at our cast
page, we know those male stripper abs will tip you over the edge. Dreamboys, the most famous and televised male strip group in the UK, have your enjoyment at the heart of every event, so come and play today.