Male Strip Shows
← Previous
Posted on 21 Feb 2020
Next →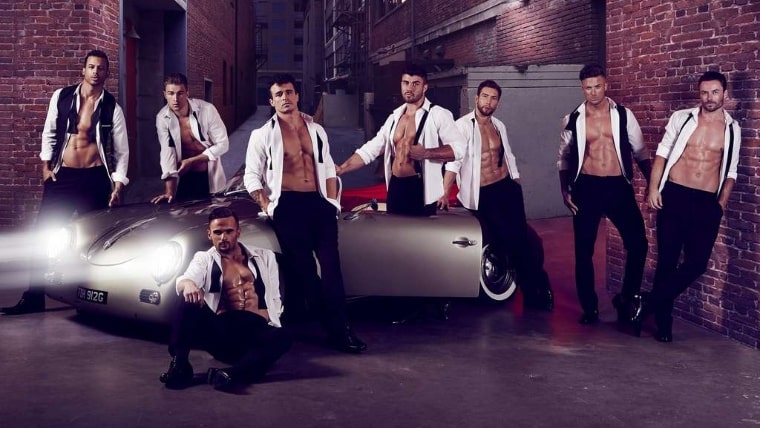 Buy Tickets & Merch 〉
FIT & FAMOUS: DREAMBOYS IS LIKE NO OTHER MALE STRIP SHOW!
Dreamboys are undeniably the most famous and successful male strip show in the UK history and have been featured in more newspapers, magazines and on more TV shows than any other male strippers in the UK put together. We are famous for our celebrity guest stars such as Jake Quickenden, Michael Griffiths, Dan Osbourne, Scotty T & Gaz Beadle to name a few. No other company in the world is responsible for so many celebrities getting their kit off!
MALE STRIP CLUB IN LONDON
If you're looking for a fantasy-inducing London male strip club, we have it! Featuring rippling muscles and men with abs like you've never seen before, we take male stripping to the next level, and this is one show that you will not want to miss out on. But we are not just in London, in-fact we are in a massive 13 cities across the UK, so wherever you feel that urge you'll never be far away from a Dreamboys male strip show. Over 100,000 women see Dreamboys male strippers every year, make sure you are one of them!
OUR MALE STRIP CLUBS IN LONDON & BEYOND
We have weekly male strip shows in
London
,
Blackpool
,
Birmingham
,
Bournemouth
,
Brighton
,
Bristol
,
Cardiff
,
Edinburgh
,
Leeds
,
Liverpool
,
Manchester
,
Newcastle
and
Nottingham
.
To book your tickets for the most exciting male strip nights the UK has to offer, visit our
ticket shop
today. You can email us any questions you may have to
[email protected]
or fill out our
online enquiry form
. We'll get back to you as soon as possible. Enjoy the show!
MALE STRIP SHOW IDEAS
From hen parties, birthdays or special occasions, our male strip club in London and our clubs in the rest of the UK, including Birmingham, Manchester, Liverpool & Newcastle mean guaranteed satisfaction for each and every guest. Whether you're heading to London for a big event or looking forward to seeing Dreamboys at a theatre or nightclub near you, this is sure to be a massive night that will leave you wanting more!
As the most raunchy and seductive male strip brand in the world, you'll be entertained by:
Muscle-bound Hunks
Impressive Stage Tricks
Incredible Dancing
Audience Participation
Non-stop high energy male strip shows
Top Drag Queens
Hot strippers from the moment you walk in the door
Tantalising Choreographed Dance Routines
Buy Tickets 〉
THE TOP MALE STRIP CLUB EXPERIENCE THE UK HAS TO OFFER
Are you celebrating a special event? Or perhaps just visiting one of our 13 locations to enjoy a city break with shopping and a spa day? If so, why not make the most of your visit and go to a Dreamboys male strip club to really make it a trip to remember? Even better, our dedicated team at Dreamboys HQ can ensure that, whether you're a party of 2 or a massive hen do, we can cater to your every need. We offer daytime activities, dinner packages as well as our male strip show. Add cocktail making, nude life drawing or a dance class to every single one of our male strip show events.
Can't make it to our London Saturday show? Have no fear! There is plenty to go around, so why not check out our massive 100 date theatre tour. Dreamboys is across the UK and Europe, so be sure to check out our list of tour dates to see when we'll be close to your home.
MALE STRIP CLUBS VS MALE STRIP THEATRES
Whether you attend one of our
tour shows in a theatre
in your hometown where we visit once a year, or in our
Saturday clubs
which are every week in London, Blackpool, Birmingham, Bournemouth, Brighton, Bristol, Cardiff, Edinburgh, Leeds, Liverpool, Manchester, Newcastle and Nottingham; you are sure to find a male strip show experience that will please and tease you to your heart's content. Dreamboys male strippers are a cut above the rest, we hand select every single male stripper to ensure they are up to Dreamboys standards which means, big, ripped and ready to entertain!
A SHORT HISTORY OF MALE STRIP SHOWS
Male striptease shows have been around for decades, in the UK they have come to the forefront of the entertainment world thanks to the massive feature film "The Full Monty" hitting the Hollywood screens in 1997. The film was based around 5 average working guys who accidentally embarked on a male strip show taking place at their local social club. The hysteria and atmosphere at this show was second to none and the male stripping industry as we know it today was born. It wasn't long until male strippers started popping up in pop culture and featuring on tv and in music videos.
The Dreamboys have been a pioneering force from long before the movie. With their elaborate choreography, cheeky personalities, a healthy dose of humour, the nationwide Dreamboys
theatre tour
and
Saturday night shows
offer you a chance to let your hair down and go wild for a night.
We are proud to be the world's most inclusive male strip company welcoming everyone to our shows. Dreamboys has been created for all audiences age 18 - 100 from every walk of life. We welcome everyone from all communities to our shows, whether its a girls night out, gay stag do, hen night, birthday, date night or just because, we offer the very best of the male strip show experience.
LOOKING FOR HEN PARTY IDEAS?
Check out what's on offer at all our 13 Dreamboys male strip show locations! We compiled the
best hen party ideas
up and down the country.