Why Every Great Hen Party Needs Dreamboys
← Previous
Posted on 05 Aug 2020
Next →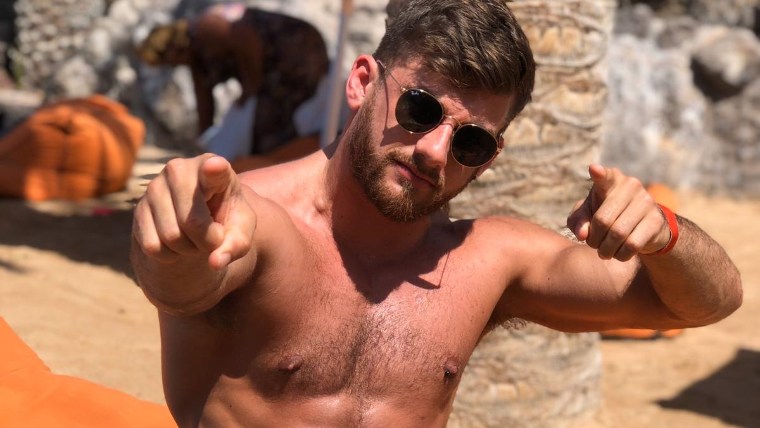 Buy Tickets & Merch 〉
Why Every Great Hen Party Needs a Male Stripper
Are you planning a hen party for your best friend? If so, the pressures on you to give her memories of a lifetime. In this blog, we'll reveal why experiencing a Dreamboys show or hiring a male stripper is the perfect choice for your forthcoming celebration for the bride-to-be.
What Will My Friends Think?
True, we don't know your friends. But we have good reason to think they'll go crazy for the idea of a Dreamboy performing for them. Our male strippers tour the globe and perform on the world's biggest stages, so you know you are in safe hands. Our gorgeous male stripper hunks are classy, charming, and professional. Women of all ages and backgrounds can enjoy their performance – even your Granny! Still unsure? Well, remember when it came out that Hollywood hunk Channing Tatum used to be a male stripper? Male stripping is mainstream now and something everyone should experience at least once in their lifetime!
Dreamboys is the perfect choice for a fun-filled night of entertainment. Pitch the idea to your group of girlfriends, and we guarantee they'll want to give it a try. Dreamboys Shows are all about female empowerment, positivity and letting your hair down for a unique experience.
Tailor Your Hen Night with Different Ticket Packages
Another amazing thing about hiring a male stripper for your hen party is that you can keep it as tame or make it as wild as you want. If for instance you've rented a holiday house for the weekend and your group of friends is on the conservative side, you can hire a couple of topless male servers for your dinner party using our
private hire service
. Everything stays G-rated, but you and your friends still get plenty of eye candy to enjoy during dinner. Think your friends would fancy something a little wilder? No problem. Kick things up a notch by hiring a male stripper to perform at your private party or come to one of our
legendary shows
!
Is the bride-to-be an artsy type? Another fun idea is to hire a stunning male model for a life drawing session. Imagine the fun you'll have sketching or sculpting the perfect male form.
Should your subject be clothed or in his birthday suit? We'll leave that one up to you to decide! We have life drawing available in all our locations. Check out our
hen party packages
for more info.
Get Ready for the Ultimate Hen Party
Are you ready to throw an unforgettable party for your soon-to-be-married friend? Dreamboys offers a variety of tickets and hen do packages to suit every taste and budget. Whether you want to be served by sexy butlers in the buff or you're looking for our two-hour-long
strip show extravaganzas
, with free welcome drink and after party entry, we'll make it happen. Whether it's the Bronze, Silver or Gold experience complete with VIP Booth, your bride will leave feel spoilt and ready to continue into the night with more celebrations.
Give in To Your Desires with the Dreamboys Male Strippers
Great for hen's nights or bachelorette parties, our chiselled men are here to please and tease. With literally millions of satisfied customers over the last 30 years, you can never go wrong in booking tickets to one of our
shows
or hiring us for your
parties and private events
. We make sure that our male strippers deliver the best service to a standard you could only dream of. With muscled physiques that are inviting and provocative and personalities to match, you will smile and laugh all night with our world class male strippers.
Book Your Dreamboys Male Strippers Today!
Be confident with booking an event with the best provider of strip shows all over the country in 13 nightclub locations and over 100 regional theatres. Here at Dreamboys, you are sure to get the best of the best to fulfil your deepest and darkest desires for your brides last night of freedom. Explore our Dreamboys Male Strip Clubs today and book your special night out! Check out what is on offer:
Dreamboys Clubs
:
Our
Saturday Dreamboys Male Strip Clubs
in London, Blackpool, Birmingham, Bournemouth, Brighton, Bristol, Cardiff, Edinburgh, Leeds, Liverpool, Manchester, Newcastle and Nottingham are the perfect hen night out with options to add dinner, a VIP Booth and even a private butler (selected locations). Our famous male cabaret show features muscled Dreamboys performing, drag act comediennes and surprise goodies!
Dreamboys Tour
:
With west-end choreography, chiselled torsos, high-energy dance routines and boy-next-door seduction the
Dreamboys Too Hard To Resist UK Tour
includes with a meet and greet opportunity at the end. We come to the suburbs and the cities navigating the UK in our famous tour bus delivering you something truly unique year-on-year.
Dreamballs
:
Bring on
Dreamboys bingo
as you take your seats for an afternoon non-stop entertainment, including sing-alongs, bottomless bubbles, sizzling hot dance moves and huge prizes! Dust off your dabbers and come play some super-sized Bingo! Dreamballs bingo and brunch is a chance to see different side of the boys, think a retro-themed party, a healthy dose of Drag and non-stop fun. It's the ultimate bingo event in town!
Private Hire
:
Whatever your needs or requirements are, from Male Strip Shows to
Strippergrams
, Hen Nights to Hen Weekends you can be assured that here at Dreamboys we have the experience, expertise and professionalism to tailor fit any night for you.