Dreamboys London: Who is Gary?
← Previous
Posted on 28 Oct 2020
Next →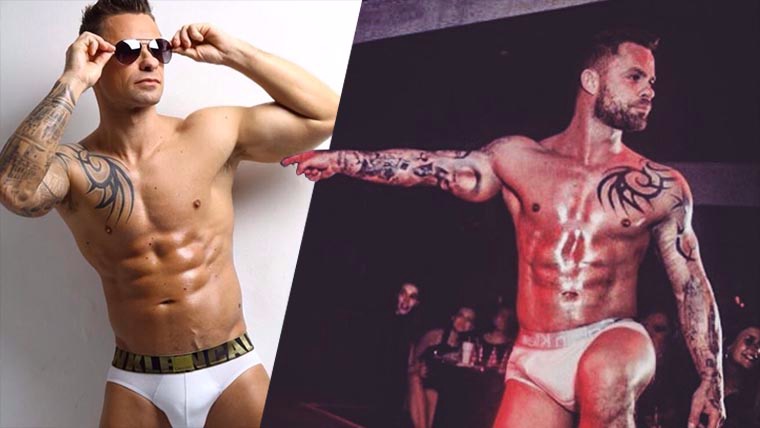 Buy Tickets & Merch 〉
Dreamboys London: Who is Gary and how long has he worked in the entertainment industry?
We have a varied London cast here at Dreamboys and some of our boys are veterans of the male stripping game. Working alongside
Javier
,
Mikey
, Harry & Rob is one of our most seasoned Dreamboys Cast members. Gary, knows exactly what it takes to be part of the best male strippers in the UK!
Here's everything you need to know about him…
Who is Gary 'Temptation'?
Gary 'Temptation' Maloney is one of the Saturday night London show's cast members, originally from Harlesden and now living in Ruislip, North West London.
He is 44 years old and has a whopping 13 years in the industry, so if any of our London boys know how to body roll and apply some baby oil - it's Gary.
The star tells us: "I started off in a troupe show called 'Men in Uniform' and then moved into stripograms for a few years.
"I then started doing Dreamboys' Ladies Nights, before moving onto the resident strip shows every weekend."
What else has Gary done?
Well, stripping isn't his only talent, as the hunky tattooed star has actually appeared in a number of popular TV shows.
Gary explains: "Over the years, I have taken part in quite a few different TV shows.
"They range from Naked Attraction to a Jodie Marsh documentary about the adult industry."
And it doesn't end there, as he has also been on The Big Fat Quiz and Celebrity Gogglebox - clearly a Channel 4 favourite!
Does Dreamboy Gary have any fun facts?
He has a great one that he loves to mention, and that is that he used to be a model for The Sun's iconic Dear Diedre pages.
Gary told us: "I did all the storylines in the back of the papers!"
As well as this, he is fluent in Punjabi… Yes, really!
"It always gets a great reaction!"
What's his favourite thing about working in the industry?
"My favourite thing about performing is getting the crowd involved!
"I love seeing them all singing, clapping and so on, I just absolutely love seeing the girls and guys having a good time!"
Speaking about the downsides of the industry, Gary continues: "There will always be those negative people who will judge and have an opinion, but I'd like to think once they've met me off stage they realise I'm just a normal down to earth bloke.
"I have no ego whatsoever!"
How do I see Gary at the Dreamboys London Male Strip Show?
Click here to book tickets
to our luxurious London club. We have VIP Booths, topless waiters and world class drag acts for a non-stop entertainment feast.
Are you organising a hen party? Make your maid-of-honour duties easy with our hen do packages including nude life drawing, cocktail making and dinners to create the perfect day and night.
Click here to explore all the
London Dreamboys hen weekend package options.
By Mared Parry